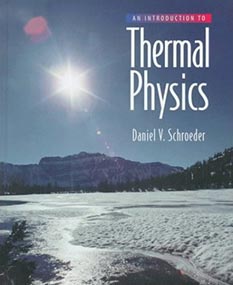 An Introduction to Thermal Physics
Daniel V. Schroeder
Department of Physics
Weber State University


Copyright ©2000 (published August 1999), Addison Wesley (a.k.a. Pearson)
Promotional material:


Resources for readers:


Resources for instructors:


Related sites:
---
News
The primary version of this book is still the hardcover U.S. edition, ISBN-10 0-201-38027-7 or ISBN-13 978-0-201-38027-9. As of late 2016 the suggested retail price is $73.20, but it is available for less through online retailers.
The situation with paperback international editions is becoming confusing, and buyers should beware. Some international editions are merely inferior in print and paper quality, but others are significantly abridged. In the cases I am aware of, these abridged versions are missing Chapter 8, Appendices A and B, the Preface, Suggested Reading, and Index. Amazingly, it seems that one such edition (the "New International Edition", ISBN-13 978-1-292-02621-3) is being sold in Europe at about the same price as the hardcover U.S. edition, or even slightly more! If someone is trying to charge you €60 or thereabouts for an abridged version (or any paperback version, for that matter), I strongly suggest that you purchase the hardcover U.S. version instead.
If you are thinking of purchasing a paperback or international edition online, be sure to determine whether it is abridged before you buy. The complete book should be 422 pages long (plus ten pages of front matter, numbered i through x). The abridged versions that I'm aware of are significantly shorter, with an advertised length of only 336 pages (apparently including some front matter).
A complete, 344-page solution manual, for instructors only, is available for download at the publisher's web site (under the Resources tab). However, using the solution manual defeats the whole purpose of doing physics and nobody (including instructors) should ever actually look at it. Printed copies of the manual are no longer available. The solution manual is copyrighted, and posting or downloading unauthorized copies is illegal.
A complete Figures and Tables collection (5 MB pdf) is available here. These are provided mostly for the convenience of instructors who wish to incorporate them into class presentation slides. Please honor the copyright notice and do not redistribute them.
The page of guidance on computer problems has been updated in a variety of ways, to reflect changes in available computing environments. The most significant change is the inclusion of Python code examples for those who prefer that language.
---
Last modified on September 30, 2016.