Physics Department Observatory
Fun Without the Sun!
---
NEW!
Telescope Loan Program: Are you a K-12 teacher? Do you have astronomy core requirements, an astronomy club or a student who is just fascinated with the stars? Would you like to have access to a telescope to show your class, or to use at star parties? The Physics Department Observatory has 5 reflecting telescopes available for semester-long loan to local K-12 teachers. There are only two caveats: 1) Do not use these telescopes to look at the Sun without a special solar filter! 2) Have fun! Contact the planetarium director (spalen@weber.edu) for more information.
---
The observatory is available for public access at 8:00 p.m. every Wednesday night during most of the academic year (September through March), weather permitting. The only exceptions are the Wednesday nights on Thanksgiving Eve and during spring break. These 8:00 p.m. Wednesday night star parties are free of charge.
We can schedule special access to the observatory for individuals or groups. The cost is $40.00 per hour and you must schedule in advance. In the event of overcast sky your group can have the option of rescheduling or seeing a planetarium show as an emergency backup. If you want telescopes brought to your site, contact the Ogden Astronomical Society for a special star party!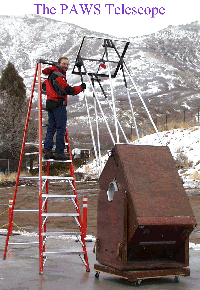 What to wear: Wear warm clothes! You will be standing around looking through telescopes and enjoying the night sky. It will be cold so you must prepare for it to have any fun. Hats, gloves, and heavy coats and pants will make for a much more enjoyable evening.
More information: Call the planetarium office at (801) 626-6871, no reservations are needed for the star parties.
What you can expect to see:
The Physics Department and the College of Science would like to welcome you to our observatory. We have built this observatory specifically for public star parties and for research by our physics majors. One of the largest telescopes in Utah will be setup for your use. On any given night you might be able to see lunar craters, star clusters, galaxies, Saturn, Jupiter, Mars and some of the universe's best deep space splendors.
The Moon: The Moon is a fantastic sight in a good telescope (or even in binoculars for that matter).
Jupiter:You can expect to see clouds on Jupiter and its four moons. In fact, we will be able to see Jupiter's moons move through part of their orbits over the course the evening.
Saturn:Saturn is a spectacular sight when it is up. Even a modest telescope will show the rings Saturn's moon (Titan). The larger telescopes will show six to eight of this planet's natural satellites. It is, however, the rings that are the most compelling part of the view. Many an amateur astronomer has taken up the hobby as a direct result of seeing the rings of Saturn.
Orion Nebula:One of the great treats of winter is the constellation of Orion, the Hunter. Even in binoculars and small telescopes the fuzzy spot in Orion's sword is an interesting sight. This faint smudge of light is a great cloud of dust and gas that is actively giving birth to new stars. It is one of the first places that the Hubble Space Telescope first obtained a direct visual view of the ring of dust that we expect young stars to have before planets form. To view the Orion Nebula in one of our large telescopes is akin to stepping into space and free floating in the universe. Twists of gas and dust surround thousands of newly forming stars in this active stellar nursery.
Open Clusters: Open clusters of stars were all born at the same time out of the same cloud of dust and gas. Several of these are in easy view during the winter months. The Pleiades is clearly visible to the unaided eye. Telescopes are not the best choice for either the Pleiades or the Hyades (an open cluster of stars in the face of Taurus the Bull). A good pair of binoculars will be the best choice. There are other clusters too, including globular clusters, some of which will be visible in the observatory's telescopes.
Supernova Remnants: Of course, not all stars are at the beginning of their lives. In the year 1054 a star reached the end of its life and exploded. The remains can be seen as the Crab Nebula in the constellation of Taurus the Bull. "M1," as it is also known, is also the very first pulsar ever discovered. Its uniform radio pulses are so regular that we did not believe at first that it was a natural phenomena.
Galaxies: Light that has been traveling for millions of years will be captured by our telescopes as we collect the light from distant galaxies. The Andromeda galaxy will be among those available for viewing. These graceful swaths of light are the collective output of hundreds of billions of stars in distant star cities that we call galaxies.
Many books and TV programs can give you a tour of the universe. Planetariums can surround you with images of the universe. But only your eyes, binoculars, and telescopes can bring the universe to you directly. Carefully maintained and operated telescopes, especially high quality ones, can give you a trip into the universe that has only been possible during the last half of this millennium. Even in the light polluted sky of Ogden, we can give you a view of the universe that you will not soon forget.
---
Observatory Equipment: (Click on the images for larger views.)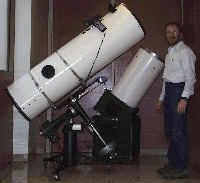 Main observatory building: precast concrete 12' X 20' X 10' (WXDXH) with workbenches and computer interfaces. Building has both white lights and dimmer controlled red observing lights.
Telescope pad: 1,040 ft2 of concrete with AC power and data links for three telescopes. Two telescopes have permanently mounted piers for easy setup. A third telescope has alignment marks for rapid setup also.
The PAWS Telescope (Physics and Astronomy at Weber State) is a twenty five inch diameter (12.5 foot focal length) Dobsonian telescope. This telescope has a computerized finder (Lumicon "Sky Vector II") with a data base of over 12,000 objects. The ladder that you need to climb to look into the eyepiece is 14 feet tall. This is among the largest telescopes in Utah. (Donated by Dr. Craig and LeAnn Gundy.)
Sixteen inch equatorial mounted and computerized Meade Starfinder telescope (over 274 pounds of telescope!). (Mount donated by Dr. Jack Cook.)
Twelve and a half inch Dobsonian telescope.
Eight inch Celestron Ultima Schmidt-Cassegrain telescope. (Donated by Mr. and Mrs. Henry Nowak)
Eight inch Celestron Classic-8 Schmidt-Cassegrain telescope.
Solar filter for the Celestron telescopes.
Six inch refracting telescope. (On loan from Dr. John Sohl.)
Several six inch Newtonian telescopes.
Four inch Unitron refracting telescope. (On loan from Dr. John Sohl.)
A three inch refracting telescope.
Two CCD cameras and adapters for film cameras.
A radio telescope optimized for observing Jupiter's moon Io as it interacts with Jupiter's magnetic field. (Affiliated with NASA's Radio JOVE project.)
The equipment is rolled out as needed onto the observing deck which is a concrete pad with AC power and data connections to computers inside the observatory building.
---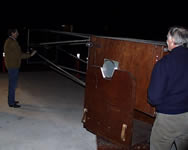 The Ogden Astronomical Society helps us out a lot!

IPS2002 Paper on the observatory: Dr. Sohl presented a paper on the design and construction of our observatory (453KB) at the International Planetarium Society conference in July, 2002. You can download and read it if you'd like. You will need the free Adobe Acrobat Reader software to read the file.

Location: See our map page. 41N 11' 44.5" 111W 56' 22.0" (41.19569o N, 111.93944o W) NAD83 CONUS



---